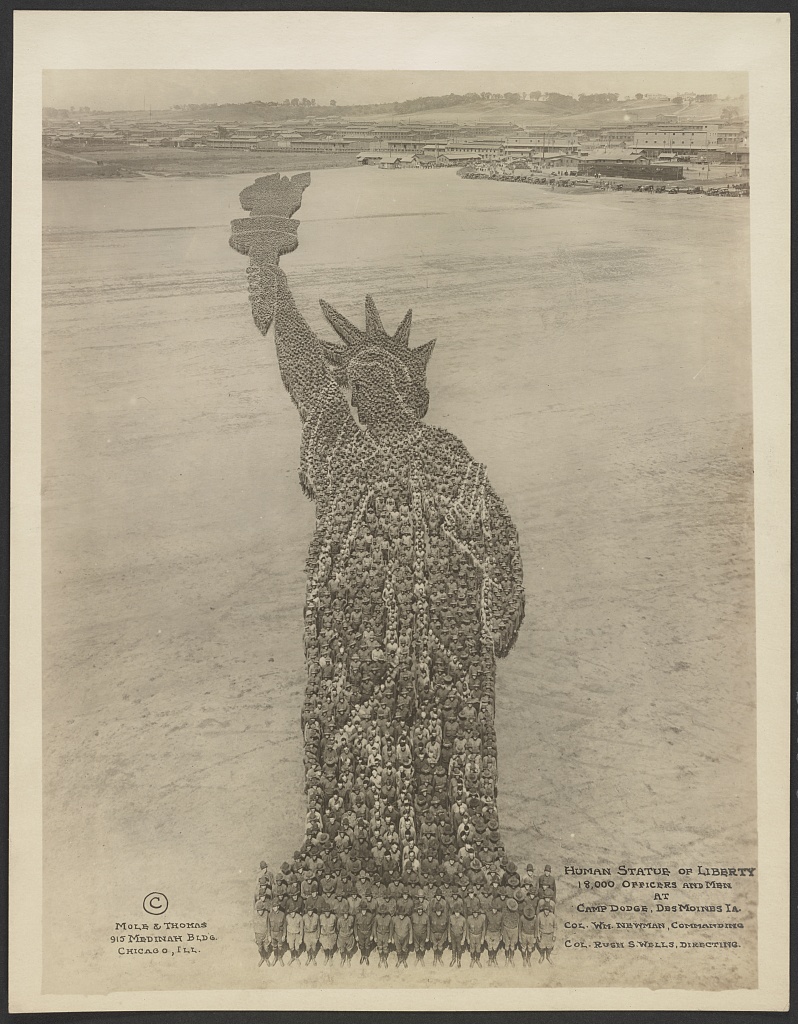 You've Got To See This!
By Assistant Curator Jane Elske
Burt County Museum has an amazing arrangement of old photos, pictures, sale bills, paintings, prints, etc. One that we are particularly fond of is called the "Human Statue of Liberty."
Taken by photographer Arthur S. Mole and his partner John D. Thomas in July of 1918, this photo shows 18,000 men preparing for war at Camp Dodge in Des Moines, Iowa.
One must see it to believe it! During the World War I years, Mole and Thomas made some incredible human pictures by using thousands of soldiers and sailors in uniform to create images.
On a stifling hot day in July at Camp Dodge, thousands of men marched in wool uniforms to their respective positions. The temperature that day reached 105 degrees. Many men fainted because of the extreme temperatures and the heat was intensified by the mass formation of men. Thousands of yards of white tape were fastened to the ground to form the shape of our Lady of Liberty and her lighted torch.
There are 12,000 men in the flame of the torch and 2,800 in the torch itself. In the right arm it took 1,200 men, but only 2,000 for the body, head and balance of the figure. A total of 18,000 men were involved. The length of the formation was 1,235 feet – approximately a quarter of a mile long.
The camera was placed on a 70- to 80-foot tower constructed by Mole and Thomas' photography studio. The photographers would spend a week or more preparing for these immense works. They used an 11×14-inch view camera. The intention of the photo was to help promote the sale of war bonds but was never used.
The picture and frame were donated to the Burt County Museum by the Tekamah American Legion in 1967. Believe it or not, there are 11 Tekamah men in the picture: Leo Dean, John Herman, Paul Nunnally, Arthur Hoover, Roy Myers, Hugh Taylor, Everett West, Carl Olson, Floyd Larsen, Walter Larsen and Bud Kelly.
We also have a "Living Flag" photo, donated by the American Legion, of saluting sailors at the Naval Training Station in Great Lake, Ill., in 1918. Tekamah's Bryan Corbin Sr. is in this photo. Photographers Mole and Thomas also captured this moment with the 11×14-inch view camera.
Roughly 10,000 sailors gathered on Ross Field in November of 1917 for the photo shoot. In celebration of the armistice, they depicted a 48-star flag.
Burt County Museum has so much to explore, see and learn about. The sky is the limit. A visit may turn into an adventure.